Meet Arbourside's New Therapy Dog, Gucci
September 01, 2022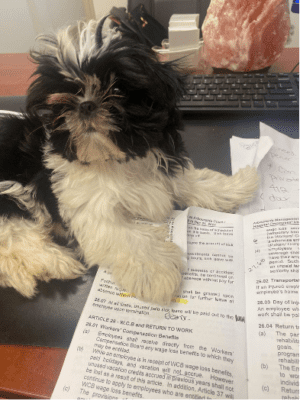 At Arbourside Court, in Surrey BC, we recognize how important our furry friends are. We pride ourselves on being pet friendly and feel that pets can contribute to healthy aging and even a longer life! We encourage all of our residents to bring their pets to live with us, we love the extra company. We also understand that although our residents may love pets, some of us don't have the day-to-day time or mobility to care for their own. That's why we have introduced our exciting new pet therapy program.
Benefits of Pet Therapy
Pet therapy has become a popular form of compassionate care across many communities and is especially valuable for healthy aging. Studies suggest that pets can positively influence factors that contribute to longevity, including reducing stress, combating loneliness, facilitating resiliency, decreasing cardiovascular disease, and just plain having fun. Being around pets also gives people the opportunity to show care and feel connections. Studies have even shown that pet therapy can result in improved memory and mental stimulation.
Our Therapy Dog, Gucci
At Arbourside, Gucci, our adorable three-month-old Shih Tzu is great company for our residents! He is available for in-suite visits every Thursday and has been so excited to spend time with so many new people. Gucci has been a huge hit in our community and residents have loved getting to know our new furry friend. Our residents personally find that interacting with Gucci decreases their stress, depression, and anxiety.
Gucci and Anna
Today, we will talk about Gucci's impact on our resident, Anna. Anna has been with us at Arbourside since 2016 and is from Hungary. She speaks very little English, and this interview was done via Google translate. Anna lost her dog 3 years ago as it needed to be rehomed due to her mobility and health issues. She has very little family nearby, and Gucci has brought her joy with every visit. During their therapy sessions, Gucci and Anna enjoy time on the couch cuddling, talking to each other, and of course, enjoying treats. Pet therapy is definitely a bright spot for Anna. It gives her something every week to look forward to and enjoy, and once again, have a pet to love.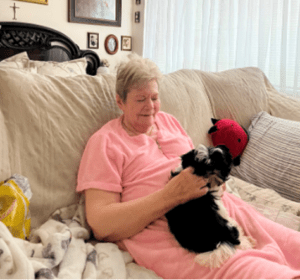 Book A Dog Therapy Session With Gucci
            Gucci is working hard to keep us all company every Thursday. All of our residents are invited to book some quality time with him. Signup is available in the activity book, and we encourage residents to signup quickly as this little guy is very popular and often fully booked.